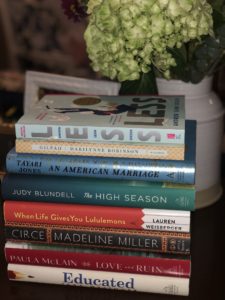 Summertime, and the livin' is easy – George Gershwin
Summer reading is definitely one of the joys of the season.  Somehow it just feels right to settle into books that are a bit lighter and fun. Something to enjoy and transport you far away as you relax at the beach, pool, lake, cottage, country, mountains, or (insert your own happy place). However, I wouldn't limit myself to just "beach reads" but read whatever is speaking to you at the moment. I've compiled a list of some of the books I will be reading this summer, which may provide you with some inspiration. I am certain I will also stumble on some books not already on my list and change it up as isn't that one of the delights of summer?
An American Marriage by Tayari Jones – Currently on multiple best seller lists. I just finished this novel about a marriage ripped apart by unforeseen circumstances and what unfolds
Beautiful Day by Elin Hilderbrand – The perfect author to include in your summer reading list. Her books are set in Nantucket or Martha's Vineyard. Filled with families and friends that are facing some type of challenge – ultimately the bonds of their relationship always triumph. The vivid descriptions of these two gorgeous islands helps make her books the ultimate beach read.
Circe by Madeline Miller – An epic retelling of the goddess, Circe's, story
Gilead by Marilynne Robinson – this has been on my stack forever so will definitely be getting to this year
The High Season by Judy Blundell – A gorgeous family home set on the North Fork of Long Island – insert some family drama and you have my attention
Less by Andrew Sean Greer – winner of this years Pulitzer Prize for Fiction
Love and Ruin by Paula McLain – I enjoyed The Paris Wife and look forward to this historical novel about Ernest Hemingway's tumultuous marriage to Martha Gellhorn
Educated: A Memoir by Tara Westover – For when you are looking for something more serious this memoir is about a young girl brought up in a survivalist family who ultimately goes on to earn a PhD from Cambridge
When Life Gives you Lululemons by Lauren Weisberger – from the author of the Devil Wears Prada this novel picks up years later with Emily Charlton, Amanda Priestly's assistant who is now an image consultant.
A few other books that I've recently read that could be great selections for your summer reading are The Immortalists, Mrs.:  A Novel, The Wife Between Us, and Little Fires Everywhere.
Whenever I am on vacation I love to seek out a local bookstore and pick up a new book or two. It is the perfect way to discover something unexpected. I've visited some wonderful bookstores over the last year including the Owl & Turtle Bookshop and Cafe, Camden, Maine, Charlie Byrne's Bookstore  Galway, Ireland, Island Bookstore, Corolla, North Carolina, and An Unlikely Story, Plainville, Massachusetts.
Wishing you all a summer filled with long, sunny, carefree days!