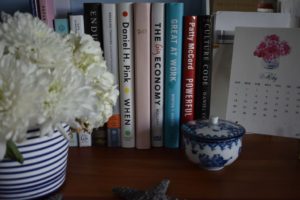 Selecting the right book at the exact time it will most resonate with you is more of a science than an art. I'm often asked for recommendations of books and enjoy sharing my thoughts on what I think someone may enjoy or learn from. In that spirit I've written a brief synopsis of 4 books I've read this year that may help you pick your next perfect read.
The Gig Economy – by Diane Mulcahy  I selected this book thinking it would focus on the perspective of the actual work and the economics behind this trend. I should have read the tag line, The Complete Guide to Getting Better Work, Taking More Time Off, and Financing the Life You Want, more closely. In this case it was a pleasant surprise and I loved the book which I have already given to several colleagues and friends. Full of research, interviews and practical tips I think it is a must read for anyone considering working freelance as well as a terrific read for anyone in the Staffing/Talent Acquisition space as a way to understand the changing mindset of workers. Fun Fact: Diane teaches an MBA class at Babson College on The Gig Economy.
The Culture Code: The Secrets of Highly Successful Groups – by Daniel Coyle The discussion around culture and the impact it has on driving performance has been a dominant theme in 2018. Driven in part by the skills gap, the increasingly diminishing availability of workers, and the gig economy I think this book is particularly timely. Its also a topic I have a keen interest in. Full of real life stories, some new to me and some familiar, the author also offers a roadmap for creating an environment where innovation flourishes, problems get solved, and expectations are exceeded.  After 4 years researching high performance groups as diverse as the San Antonio Spurs and Dan Meyer's Union Square Hospitality Group Daniel Coyle had significant data and real life examples to draw from. Fun Fact: I selected this book as the spring read for the book club I'm hosting.
Powerful: Building a Culture of Freedom and Responsibility – by Patty McCord As Chief Talent Officer at Netflix Patty helped create the unique, high-growth culture there and was co-creator of the Netflix Culture Deck heralded by Sheryl Sandburg as perhaps "the most important document ever to come out of Silicon Valley." This was a really quick, engrossing read. Many of the decisions they made at Netflix challenged traditional practices and definitely made me reflect on the importance of aligning your talent and practices with the results you are looking to achieve. It will make you think twice about everything you're doing and I think in a good way. Fun Fact: Netflix was the 2nd start-up Patty worked at with CEO, Reed Hastings.
Great at Work: How Top Performers, Do Less, Work Better, and Achieve More – By Morten Hansen In addition, to the promises of the tag line this book appeared on multiple "must read" lists. This book is full of data and statistics which the author gathered after studying 5,000 workers starting in 2011. Following his analysis he identified 7 Work Smarter Practices. Full of real life stories as well as practical advice this book is perfect if you are in the mood for some self-reflection. My Biggest Take Away: Do less, then obsess. Really hone what you are focused on then obsess on it.
Happy Reading!