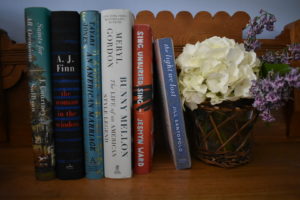 A long weekend is the perfect time to relax, recharge, and spend time with family and friends. If you are looking for a good book to read I'm highlighting 5 novels that you may want to put on your list if you haven't already.  For those of you more inclined to pick up a non fiction, business book you can find my thoughts on a few of those here.
Enjoy the long weekend and happy reading!
The Woman in the Window by A.J Finn – On the New York Times Bestseller list for the past 19 weeks I devoured this one over a few days. The synopsis didn't real scream read me –  an alcoholic, agoraphobiac spends her days spying on her neighbors and is convinced she witnessed a murder. Somehow despite this, I was on Anna's side and was cheering for her to come out okay. This book is a page-turner and you will find it difficult to decide what is real and what is imagined.  Aside: If you like a book with plenty of twists and well-drawn characters this one is for you.
Sing Unburied, Sing by Jesmyn Ward – Winner of the 2017 National Book Award for fiction this is a story that has stayed with me for a long time. Set in Mississippi you experience life through the eyes of a 13 year old girl, JoJo, who's mother is black and father is white and just being released from jail. It is an epic family drama and it is brutal at times as this family's dynamics and circumstances are revealed.  Plenty of Kleenex were put to good use and I just loved this book. Aside: There is a mystical aspect to this book so I recommend most for those who enjoy or appreciate that dimension..
The Light We Lost by Jill Santopolo  A romance that spans decades, it is set primarily in New York City, but it will also take you to other continents. Lucy and Gabe, two-star crossed lovers, appear to be destined for each other but life presents some challenges. There is a love triangle and I will let you decide for yourself if you are Team Gabe or Team Darren. Fun Fact: This book was the February Selection in Reese Witherspoon's Book Club. If you haven't checked her club out it's a wonderful, and fun source with a new book featured each month. Follow along on Instagram @reesesbookclubxhellosunshine
Pachinko by Min Jin Lee – A historical novel that traces four generations of a Korean family as they migrate to and establish roots in Japan. I'm a sucker for a big, sweeping, multi-generational saga and I loved this one. It reminded me somewhat of Pearl Buck's book, The Good Earth.  Be prepared to refer back at times as keeping track of the many characters, their names and relationships can be a challenge. Well worth it, in my opinion. I learned a lot about this period in Korean and Japanese history. Fun Fact: Pachinko It is the first novel written for an adult English speaking audience about Japanese Korean culture.
The Great Alone by Kristin Hannah –  I pre-ordered this book by Kristin Hannah as I so loved her last novel, The Nightingale. Completely different her gorgeous, descriptive writing is consistent throughout them both.  Leni Allbright and her family move to Alaska driven by the desire of her father, a volatile former POW, to start a new life. The themes of abuse and the stark, violent and isolating lifestyle in remote Alaska made for difficult reading at times. At 435 pages it was a relatively long read and at times felt even longer as you experienced the long, dark winters of Alaska with the Allbright family.   Ultimately I found it reaffirming and walked a way glad I read it. Fun Fact: I finished this while at my friend, Laurie's, beautiful beach house so somehow this book about cold, wild Alaska will always remind me of her and that lovely setting.
I'm working on compiling my summer reading list and will be sharing that – would love to hear what you're reading!
PS – I know my photo doesn't match up to all the books but I have passed some on to friends before I could capture on camera.  I have supplemented with a few others I enjoyed.  An American Marriage will be on my summer reading list